The complete cat food for adult cats with low activity levels or a tendency to be overweight, with all essential nutrients & fewer calories for better weight control.


Hill's Science Plan Adult Optimal Care Light with Chicken cat food is specially adapted to adult cats who need fewer calories and tend towards being overweight, be it due to low activity levels, neutering or other circumstances.

Excess weight puts a burden on your cat's bones and joints, muscles and internal organs (for example the heart). Hill's Science Plan Feline Adult Light contains an increased proportion of raw fibre which makes your cat feel satisfied without having to take in too many calories.
The low fat, high fibre composition keeps your cat slim and offers full satisfaction without the need to reduce feeding amounts
Contains L-carnitine for weight control which promotes the conversion of fat into energy
Promotes healthy skin and shiny fur
Hill's Feline Adult Light Chicken cat food contains a unique combination of antioxidants to strengthen the immune system
With 58% poultry in total, of which 38% is chicken
With Feline Adult Light and the right amount of activity you will help your cat to regain and keep its ideal weight, for a long and healthy life.

Hill's cat food is made using high-quality, easily-digestible ingredients which will give a bowl of Science Plan a much higher nutritional value than a bowl of normal pet food, so the cost of feeding your cat may be lower than you might expect.

In addition, the high digestibility of Hill's cat food will reduce your cat's stool volume, so that cat litter will have to be changed less frequently.

Hill's Feline Adult Light Chicken cat food - crunchy and with a savoury taste, this is the perfect cat food to keep your pet fit for a long and healthy life.

Kibble: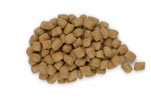 Please note:
Hill`s Feline Adult Light is NOT suitable for pregnant or nursing cats.

More information about the supplementary wet food can be found here: