Hills Science Plan Light Adult with Chicken for dogs with low energy requirements, such as less active and neutered dogs and dogs that are prone to being overweight; with L-carnitine


If your dog is getting a little plump, Hill's Canine Light Adult with Chicken can help. With lowered calorie and fat content it helps your dog to keep its weight down. It is a complete food which offers a comprehensive and balanced range of nutrients, as well as excellent taste. Plus, Hill's antioxidant formula will protect your dog from any health risks.
Hill's Canine Light Adult with Chicken stands out for its low calorie and fat content and ensures that dogs between one and six years who are prone to being overweight keep their ideal figure.
Contains 40% less fat and 18% fewer calories than Science Plan Adult Chicken
Low fat content and plenty of dietary fibre means your dog stays slim yet fully satisfied without the need to reduce feeding amounts.
Hill's Canine Adult Light Chicken contains L-carnitine which helps to convert fat into energy and keeps your dog's body lean
Balanced nutrition and excellent taste for dogs prone to being overweight
Hill's Canine Light Adult with Chicken Dry Dog Food contains Hill's unique Superior Antioxidant Formula which supports the immune system
Promotes healthy skin and a shiny coat
Contains 38% poultry in total, of which 26% is chicken.
Hill's dog food is made using high-quality, easily-digestible ingredients which will give a bowl of Science Plan a much higher nutritional value than a bowl of normal pet food. So the cost of feeding your dog will be lower than you might expect!

Kibble: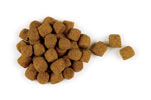 Please note:
Hill's Canine Adult Light is NOT suitable for pregnant or nursing bitches.