Is it safe for my dog to play with a tennis ball?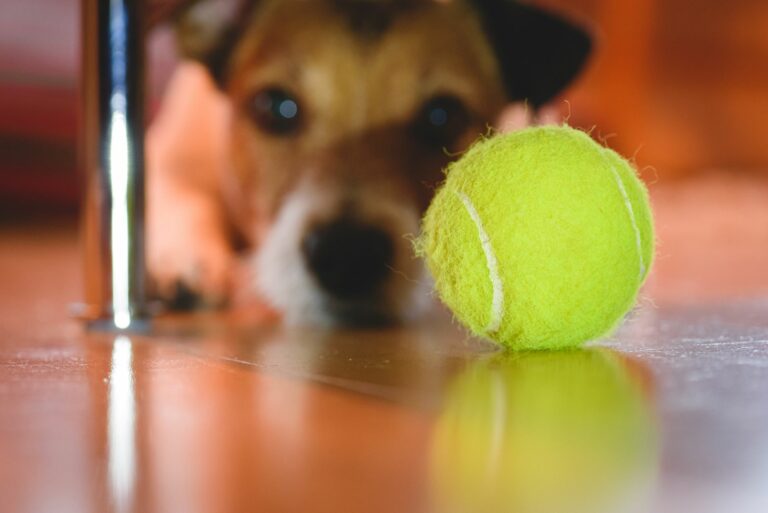 © alexei_tm / stock.adobe.com
Cheap and yellow – tennis balls are popular dog toys. Read here why there aren't suitable toys for your dog.
Four reasons why tennis balls are dangerous for dogs
Tennis balls are harmless fun? Find out why this isn't the case:
Dangerous materials
The insides of tennis balls often contains gases so that they bounce and fly through the air. Colourings and other chemicals make balls water-resistant and give them their bright yellow colour. In short, the composition of a tennis ball can be harmful for dogs if they come into contact with it often, since dogs put the ball in their mouth, where mucosa absorb damaging chemicals. It's also possible that damaging substances from chewing and sucking the ball end up in the dog's mouth. Regarding swallowing, if dogs take the ball apart, small parts can get stuck in their stomach or intestine and lead to constipation or the danger of intestinal obstruction.
Danger of choking
Swallowing small parts is a double risk, because parts of the tennis ball can get stuck in the throat and pose a risk of suffocation for dogs. There is a further danger for dogs with large mouths: if a strong dog bites the tennis ball flat and at the same time the ball slides into the back of its throat. If it returns to its round shape, it can limit breathing and harmless play can turn into a life-threatening situation.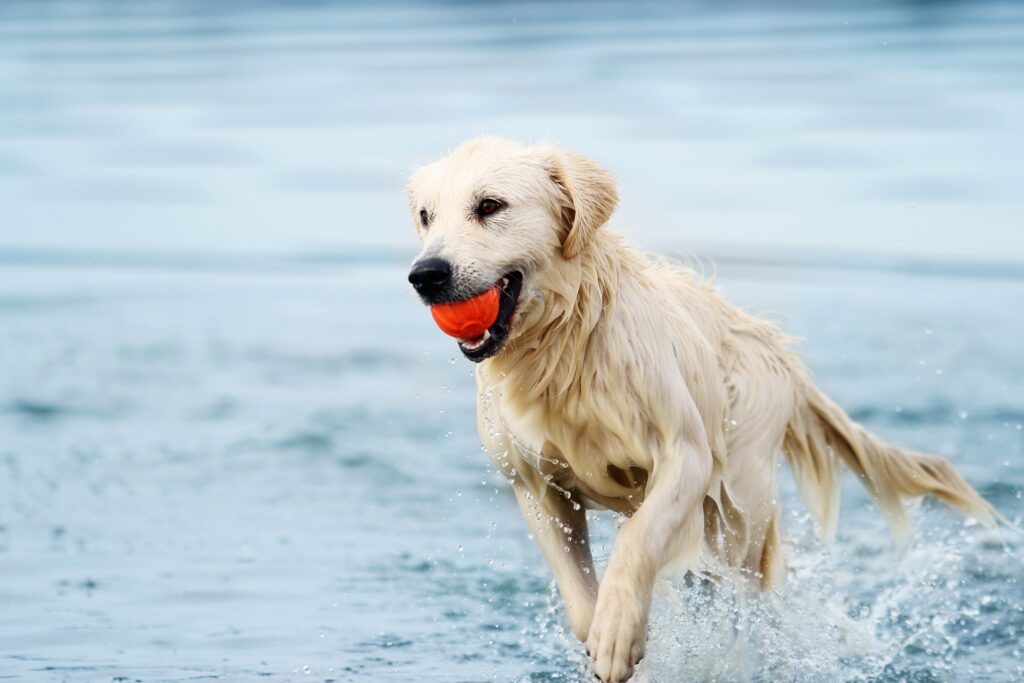 Danger to teeth
A tennis ball has to stand up to a lot: hit for hit, game for game. Its surface is designed to make it ideally suited for constant contact with tennis rackets and impact with the floor. The felt surface of tennis balls is made up of a waterproof mix of wool and nylon, which is very resistant. Some dogs love chewing tennis balls for pleasure. This can have fatal consequences for their teeth: when strongly biting tennis balls or catching them in the air, the abrasion on the teeth acts like sandpaper. In the long term, this grinds the tooth enamel and gives dogs toothache. Oh boy!
Not made for dogs
Toxic, swallowable, damaging to teeth – tennis balls aren't straightforward for dogs. Are you surprised that such a popular toy is dangerous for dogs? The most important reason why tennis balls aren't suitable for dogs is that manufacturers focus on creating a perfect piece of sporting equipment for tennis players. In contrast to producers of dog toys, they don't consider the safety or possible long-term damage for dogs. Compared with most everyday objects, dog toys generally usually provide the greatest safety. Many everyday things that may look like good dog toys on first glance are totally unsuitable when you take a second look.
Alternative toys for dogs
Does your dog love tennis balls? No problem! There are lots of balls specially designed for your dog and other canines just waiting to be played with. There are of course mock tennis balls for dogs. Such balls come with numerous extras: luminous balls make playing in the dark possible. Floating balls allow for fun in the water. Balls with openings to hide treats can keep your dog occupied on its own for a while. Balls that squeak or swish loudly when thrown through the air also have auditory appeal. Balls with a throwing line or arm for dog owners provide the perfect flight path and running fun for dogs. Many dog toys offer further extras too. And the best thing is that all balls declared as dog toys only have one objective: to bring dogs joy safely! Nevertheless, don't leave your dog unsupervised. This particularly applies to young dogs or those that have recently entered your home and you are still unfamiliar with how they behave when playing.
Alternatives to chew
So your dog has fun just playing with tennis balls but also chewing them? For this purpose too, special dog balls can give your dog long-lasting enjoyment chewing. Special chew toys such as those made by Kong aren't always round, but are durable and care for the teeth. Edible dried chew products like pizzle or rumen offer healthy chewy fun for dogs of all sizes.
Was this article helpful?
Our most helpful articles
Cheap and yellow – tennis balls are
popular dog toys
. Read here why there aren't suitable toys for your dog.
Only for big dogs? No way! Small dogs too can have plenty of fun with agility. Find out here whether your little dog is suited to this dynamic dog sport and which five factors you as a dog owner have to take into account.
Do you dream of going on a beach holiday but without having to worry about your dog? Travelling abroad is often difficult if you don't want to leave your pooch at a dog hotel or with a dog sitter.  Do not worry, the UK has a gorgeous and versatile selection of dog-friendly beaches where you can relax and enjoy the scenery with your dog. After all, a beach is the perfect playground for dogs. Where else do they have the opportunity to roll around in soft sand, play in refreshing turquoise waters and have enough space to
play fetch
? And all that within beautiful and calming nature. We have selected a list of the top 10 dog-friendly beaches on the UK coastline to make sure both owner and dog will have the best time.