Our Charity Partner

Every three months, zooplus.co.uk teams up with a British pet charity to give you the chance to help animals that are not as fortunate as your own. At the end of the three-month partnership, we convert your generous donations into a fantastic parcel of food and accessories for our chosen animal charity.
So how does it work?
Donating is easy, with no need for extra payments. Just save up the reward points that you receive with each and every purchase at zooplus.co.uk (£1 = 1 Point), then log in to myzooplus and add the points you would like to donate to your shopping basket. You can donate between 10 and 250 zooPlusPoints, with all donations making a massive difference to the lives of animals in need. Please note, you can only collect zooPlusPoints if you are a registered customer. Points can only be donated when a purchase is made.
How else can I help?
You can also support our charity partner by buying any product from our exclusive new range, "zoolove by zooplus". For each product sold, 10% of the sale price will go directly to our current animal charity, to be spent wherever it is needed most. Find out more here.
Our current charity: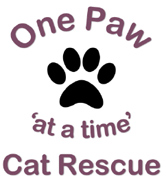 One Paw Cat Rescue
is a not-for-profit cat rescue charity that rescues over a hundred cats per year, and strives to give advice & support to improve welfare of all cats.
The rescue volunteers are a group of loyal, hard-working and caring people that put the care, love, and affection first for cats and kittens. Many of the cats have been abandoned or abused, and have often gone through tough times before coming to the rescue, so we do our utmost to provide them with the best start to their new lives before finding their puuurfect forever home. Being a not-for-profit, we solely rely on the kind donations from the public of money, food, volunteering and fundraising, plus money from our own pockets to keep the rescue going.
One Paw Cat Rescue
aim is to provide high-quality care, medical attention and a safe and loving environment for the animals, as long as they need.
To suggest an animal charity go to our zooplus Facebook Page
Looking back at 2014