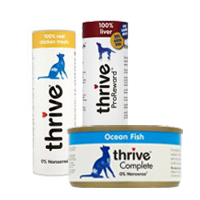 thrive Pet Food
0% nonsense pet food and treats
thrive is best known for their popular range of dog and cat treats made from 100% real meat and fish, which is then freeze-dried to retain as much nutritional value as possible. This gentle freeze-drying process also ensures that your pet can enjoy a snack naturally rich in flavour.
At zooplus you can also find a selection of premium-quality thrive cat food, all free from artificial colours, flavours and preservatives. thrive PremiumPlus dry cat food is a complete diet made with low-fat, hypoallergenic ingredients that are especially suitable for cats with sensitive stomachs. This grain-free kibble also boasts a high meat content of up to 90%, providing your cat with plenty of protein so they can stay fit and active.
thrive wet cat food is also grain-free and rich in protein. This balanced diet contains the finest ingredients, as well as all the vitamins and minerals needed for optimal feline health.
Explore our selection of thrive pet food at zooplus:
Treat your pet to premium-quality nutrition from thrive.
If you still haven't found what you're looking for, return to our Top Brands page to find more recommended pet food.