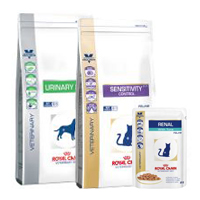 Royal Canin Veterinary Diet
Dietetic food for dogs and cats suffering from various health conditions
If your pet is diagnosed with a specific health complaint, such as obesity, diabetes or kidney disease, you may be advised to feed them a special therapeutic diet to help improve their health and wellbeing. Royal Canin Veterinary Diet is a popular range of dietetic dog and cat food suitable for pets that suffer from allergies, urinary problems and everything in between. When recommended by a vet, Royal Canin Vet Diet can provide effective support for other veterinary treatment, helping to further relieve symptoms and even reducing the risk of possible recurrence.
The range of Royal Canin Veterinary Diet products available at zooplus includes dry dog food, dry cat food and wet cat food in cans and pouches. With Royal Canin Vet Diet, you can be sure to find a nutritional solution to all of the most common feline and canine health problems.
Alongside this wide selection of Royal Canin Veterinary Diet products developed with particular diseases and health conditions in mind, Royal Canin also offers a variety of dietetic cat food for neutered and senior cats, as well as for cats with sensitive skin. Find out more about Royal Canin Vet Care Nutrition and explore the full range of wet and dry cat food products here.
If you still haven't found what you're looking for, why not check out our pick of other popular veterinary food for dogs and cats? With a number of different brands to choose from, here you can find both wet and dry vet food suitable for pets suffering from a broad range of health complaints.