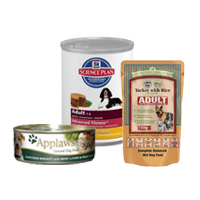 Wet Dog Food
Great-tasting wet food for dogs of all ages
At zooplus, you can find a wide range of delicious and healthy wet dog food to satisfy your dog's tastes and help to promote their general wellbeing. We stock all your favourite brands of wet dog food, from Burns to Hill's Science Plan, offering plenty of choice whatever your dog's age, lifestyle or dietary requirements.
Wet Dog Food vs. Dry Food
For all dog owners, one of the most significant decisions you'll have to make is whether to feed your dog wet or dry food. A common reason for choosing a wet food diet is that this type of dog food boasts a higher moisture content than kibble, helping to keep your dog hydrated and promoting good urinary health. Wet dog food also has a particularly juicy and appetising texture that more closely resembles the food your dog would naturally eat in the wild, compared to a typical dry dog food. While dry food is sometimes believed to be easier to store and portion than wet food, this doesn't need to be a concern thanks to the array of convenient wet food packaging available, from stackable canned dog food to single-serving dog food pouches. With wet dog food, you can also ensure that your dog has plenty of variety in their diet, with an exciting range of flavours and textures.
Complete vs. Supplementary
Once you've decided to feed your dog wet food, rather than kibble, it's important to take a closer look at the product description to make sure your dog is getting everything they need to stay fit and healthy. This means checking if your dog's favourite wet food is complete or supplementary. These terms might sound confusing at first, but saying that a dog food is complete simply means that it contains a healthy balance of all the necessary vitamins, minerals and nutrients for your dog, whereas a supplementary (or complementary) wet food is lacking in one or more of these vital nutrients. Complete wet food, such as Lukullus or Arden Grange, can be fed on its own. In contrast, supplementary food must be fed alongside other wet or dry dog food to make sure that all of your pet's nutritional requirements are met.
Healthy Wet Dog Food
Amongst the wide selection of great-tasting wet dog food available at zooplus, we're proud to offer lots of extra healthy canned dog food and wet dog food pouches, so you can be sure that your dog is receiving the very finest nutrition. Healthy wet dog food typically contains naturally sourced and gently processed ingredients, with no added artificial colours, flavours or preservatives. A healthy, all-natural diet can also refer to wet dog food that is hypoallergenic, organic, grain-free or contains only a single source of animal protein. At zooplus, you can even enjoy great deals on healthy wet dog food with a low fat content and reduced calorie levels - check out our pick of the best diet foods for overweight dogs or dogs with a tendency to gain weight.
Wet Food for Sensitive Dogs
Many of the products in our range of healthy wet dog food are especially ideal for fussy or sensitive dogs. Whether you're looking for a hypoallergenic or grain-free wet dog food for dogs with specific nutritional intolerances, or are simply on the hunt for a particularly tasty wet dog food for fussy eaters, you'll be spoilt for choice at zooplus.co.uk. Why not try the specialist sensitive ranges from Rocco or Animonda, or look out for wet dog food featuring unique sources of protein, such as whitefish or ostrich?
Wet Food for Puppies
Growing puppies have specific nutritional requirements and should be fed an age-appropriate diet. For example, young dogs need a food with a good supply of calcium to support their bone development, while high protein levels can help to promote strong muscles during this important growth phase.
Wet Food for Senior Dogs
Elderly dogs can also benefit from an age-appropriate wet dog food. As they age, dogs often begin to experience impaired kidney function, so it can be advantageous to switch to a specialist diet with reduced phosphorous levels in order to prevent unnecessary strain on their renal system. Senior dog food with a low salt content can also help to keep your older dog's blood pressure at a healthy level, reducing the risk of heart and kidney problems.
Check out our full range of delicious wet dog food to make mealtimes even more irresistible for your dog, or choose from our top pick of the most popular brands:
If you still haven't found the ideal wet food for your dog, why not check out our full range of
wet dog food
or browse our great
special offers
for even more savings? You may also want to view our selection of
dry dog food
to add extra variety to your dog's diet.