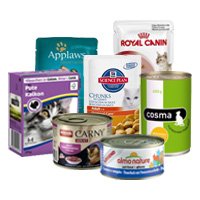 Wet Cat Food
A wide range of tasty and nutritious pouches, trays and canned cat food
Most cats love the appetising taste and juicy texture of wet cat food, served as either all or part of their daily diet. Compared to kibble, the consistency of moist cat food more closely mimics the food that your cat would naturally eat in the wild. Wet food also boasts a higher water content, increasing your cat's overall fluid intake and helping them to stay hydrated. Another advantage of wet cat food is that it can be easier to offer your pet a more varied diet, just like the broad variety of prey that cats would hunt and eat naturally. This is especially easy thanks to the amazing selection of wet cat food pouches and tinned cat food on sale at zooplus, making it simple to find the best wet cat food for your pet.
Wet cat food is typically sold in tins, pouches and sometimes even environmentally-friendly tetra paks, so you can be sure to find the right packaging to suit you. Canned cat food can be more cost-effective than pouches and some cat owners find it easier to avoid wastage. Single-serving cat food pouches, on the other hand, can be more practical to store and help to keep the food especially fresh and juicy. There are lots of things to consider when choosing the best wet cat food.
Whether you choose cat food tins or pouches, it is always important to make sure that your cat is receiving a healthy, balanced diet. This means checking if your cat's favourite wet food is complete or supplementary. A complete wet cat food is designed to provide the full range of nutrients that your pet needs to stay fit and active. This means that the food can be fed on its own, without the need to combine it with any other food products or supplements. However, if a moist cat food is supplementary (sometimes also called a complementary food), it is lacking in one or more essential nutrients, such as taurine or calcium, and must be fed alongside other wet or dry cat food to make sure that all of your pet's nutritional requirements are met. zooplus not only offers a range of the best wet cat food, but also has the perfect kibble as well.
At zooplus you can find an amazing selection of mouth-watering tinned cat food and delicious cat food pouches at great prices! Choose from these popular brands or explore our full range of wet cat food:
Explore our wide range of the best wet cat food for pets of all ages or check out our great special offers for even more savings! You may also want to view our selection of dry cat food and add even more variety to your cat's diet.