Cart Overview
Quantity:
Shipping :
Value:
zooplus uses cookies to provide you with the best possible service. If you continue browsing this site, you agree to our Cookie Usage Policy.
Living World Green Eco Habitat
Living World Green Eco Habitat
New cage: "I love this cage it gives my Syrian hamster loads if room to play and move its perfect she loves it..."
Other customers also liked:
Other customers also liked:
This spacious, innovative small pet habitat comes in three sizes, and is made from recycled rubber wood, a hard-wearing material ideal for small pets. The cage is quick and easy to assemble, using only 8 screws, so that your pet can move in straight away and make itself at home.
The four transparent plastic panels with integrated air holes provide you with a great view of your pet, and also allow your pet to get a good look at what's going on outside. The top of the cage consists of a sturdy MDF lid with two rotating wooden locks, which can be easily removed at any time to give you access to your pet. The lid has plenty of ventilation slits to ensure that your pet has a constant supply of fresh air.
The cage comes with 4 wheels that can be attached to the base, so that you can easily change the position of the cage in your home. Two of the wheels are equipped with brakes, to keep the cage steady in one place. The cage can also be used without wheels.
The Living World Green Eco Habitat cage is recommended by vets, and certified by the BNA (German Nature and Wildlife Conservation Association) to be a high-quality, species-appropriate habitat for small pets.
A dream home for your pet, that will look great in your home!
The Living World Green Eco Habitat at a glance:
Available in 3 different sizes:

Size S: 78.5 x 58.5 x 55 cm (L x W x H)

Height without wheels: 46cm
Interior dimensions: 75 x 55 x 43.5 cm (L x W x H)
Upper opening: 73 x 53.5 cm (L x W)
Ventilation slits in lid: approx. 2cm
Air holes in walls: diameter approx. 10mm



Size M: 98.5 x 58.5 x 61 cm (L x W x H)

Height without wheels: 52cm
Interior dimensions: 95 x 55 x 49 cm (L x W x H)
Upper opening: 93.5 x 53 cm (L x W)
Ventilation slits in lid: approx. 2cm
Air holes in walls: diameter approx. 10mm



Size L: 118.5 x 78.5 x 61 cm (L x W x H)

Height without wheels: 52cm
Interior dimensions: 115 x 75 x 49 cm (L x W x H)
Upper opening: 113 x 73 cm (L x W)
Ventilation slits in lid: approx. 2cm
Air holes in walls: diameter approx. 10mm



Made from environmentally friendly rubber wood
With 4 rollers, 2 with brakes
Quick and simple to build
Recommended by vets and BNA-certified
With lots of specially developed matching accessories available
Please note: We recommend using the specially developed Living World Green Biodegradable Cage Liners with this cage. The liners will protect the wooden base of the cage against moisture, and make cleaning much quicker and easier. For more information, please follow this link:
It is important to make sure that your pet gets the chance to run around and play in a larger area every day. A run or enclosure is a great way to give your pet space and keep it safe at the same time. Take a look
here
at our selection of indoor and outdoor runs.
Important:
To ensure your pet's safety, its cage should always be placed on the floor. Please do not stack cages or place anything heavy on top of the cage.
Hagen Living World Green - Closer to Nature: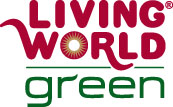 The Living World Green range is part of Hagen's commitment to protecting the environment. We're convinced that with sustainable solutions we can meet the challenges facing our planet, and work towards a greener future for our world and wildlife. Our wooden products are made from environmentally friendly rubber wood, recycled from plantations where it is used to produce latex. Rubber wood is lightweight but extremely hard-wearing, making it ideal for small pets.
New cage
I love this cage it gives my Syrian hamster loads if room to play and move its perfect she loves it
14/01/17
Perfect
After much research decided to purchase this in the large size for two guinea pigs. It's a little expensive compared to regular style cages but it looks lovely and there's no bedding getting kicked out of it!! I lined the base with a bit of Lino for extra protection and also use the livingworld liners which make it really easy to clean out with minimal mess!! The piggies also seem really happy in there.
my little goos love it
So much space to play and part of the family without hay and sawdust all over the floor brilliant and well worth the money
24/04/16
|
Amelia Thompson
My piggies love it
I wanted a cage that was a descent size for my piggies and saw this and loved the look of it even tho it is abit pricey My piggies seem to enjoy chewing the liners!! They have been charging about and playing loads since they went in it they really do love it very please with my purchase Mine came with yodel and the box was pretty damaged so much so the lid of the cage in one coner had been damaged but doesn't really effect use
04/04/16
Almost Perfect
Initially I loved this cage, and indeed it is very beautiful and serves its purpose well, but having had it for about 2 months now I have found the lid to be rather big and heavy if you need to stick your hands in the cage several times a day to top up hay and water - so now my husband has cut it in half lenghtways and screwed on hinges, which would undoubtedly look a lot better if this had been done at the factory. Other than that, I still love the cage. It always gets visitors talking!
excellent product
I got the large size for my 2 Russian dwarf hamsters and they love it. They have so much space to run around and lots of room for toys. The cage was really was to put together. The delivery time was good. I will definitely buy another one of these cages for my other hamsters.
08/11/15
best ever cage!
Brilliant cage for our two male piggies loads of room, much tidier than traditional - no hay falling out and easy to clean - we have the liners which make it so easy. Cage and liners well worth the cost, wouldn't go back to traditional cage after having had this. Expensive but definitely worth it!
31/10/15
Great cage but some problems
I bought this for my 3 gerbils earlier this year - it's great to look at and provides plenty of space for gerbils/hamsters however there are a few problems. I like to give my gerbils a deep layer of bedding so they can dig tunnels but I noticed that when I put a deep layer of bedding in here, the perspex started to bend and then the bedding started coming out. Another problem is that my gerbils have started to chew a hole in the lid as it is made from wood.
18/08/15
great gerbil cage
i purchased the small one fab for gerbils and other small animals very stylish and spacious
Superb
Bought the large size cage for my hamster. It was very easy to build and looks stylish and modern, with great visibility for all areas of the cage. It is spacious and very easy to move for cleaning purposes. I cannot recommend it highly enough, and although a little pricey, I think it is well worth investing in. I am considering purchasing a second one of these for my other hamster.
Lovely cage
Hi, I bought this enclosure for my guinea pigs. I bought the large size and put in a house, cork log etc and they seem to love it as running around pop corning 😁. I've put Lino on the base to protect the wood, would be better with a plastic base. The lid is a pain as every time you need to change water or put food in etc I have to take lid off so I have cut it in half length ways and screwed in 3 hinges so now I can just fold over the front of the lid for cleaning, food etc. I love it though as can see my piggies all the time and beats watching TV.
Lovely home for my Guinea Pigs.
Really pleased with this for my Guinea Pigs, it looks huge in my lounge but lovely watching them. Piggies don't like draughts so it's ideal for them. It was very easy to put together too. My only criticisms are as its 4ft x 2.5ft it's a pain to keep lifting the lid off to put food in etc. I have modified mine which maybe Living World should do as makes life so much easier. I have cut lid in half long ways and put 3 hinges across it to join the two parts together, now I don't have to lift off lid I just fold front section over the back section. I've also added some O rings under lid to hang toys from. The base is wood so urine will soak in so I have put Lino on top of the wood to protect it. I would deff recommend this enclosure.
Perfect home and beautiful.
We recently upgraded from the small size to the large for our two male guinea pigs as they grew and really wanted them to have space to run as well as play. We are so pleased we did. The habitat is beautiful to look at and so much thought has gone into the item. Being able to watch them from all sides is wonderful and makes them feel so much a part of the family. The option to be able to wheel the habitat around the home also adds to this and I do find myself allowing them to be the centre of our living room and can then wheel them away tidily in the evening. There is room to place many items inside and we have a few multi leveled pieces and the height of the sides allows this easily. SO much nicer than cage bars and no more messy bedding over spills through the bars. The ventilation is spot on (although we tend to have the lid off for part of the day this is not necessary unless you wished it) We use the lid gaps to hang hay balls from and a water bottle designed for smooth sided cages fits well utilizing two of the ventilation holes on the wall. Still leaves masses of free flowing holes for air. NO build up of odors due to the walls. Cleaning out is a pleasure and we use the liners.Would highly recommend that they are used too as it speeds up cleaning. Our pets seem happy and we are so glad we spent the extra and ordered the larger size. It is big so make sure you have the room, but looks lovely and more like a piece of furniture and not out of place in our living room.It is a conversational piece with guests. It is an investment but we would never go back to other cages or even consider the c and c options that so many guinea pig owners insist is the only way to house them. The solid sides reduces drafts for them if needed and also wandering childrens fingers or cat paws if you have them and reduces any noise levels for them. The easy lift off roof means it can be removed until nighttime or if we go out so the majority of the day they are truly part of our home thanks to this habitat. It is a considered purchase but we are very pleased.
Couldn't ask for a better cage
This habitat is brilliant! My hamster has tons of space to run and for his toys. He's easy to see and get out, the cage is a dream to clean out, is portable and easy to put together! Look no further at all for your perfect hamster cage, because this is it!
04/06/14
The best cage ever- it's completely changed the cleaning experience and is beautiful. Brilliant!
This is the best cage that I have seen anywhere. I bought the large and my 2 guinea pigs love it! It is extremely beautiful to look at and you can see the guinea pigs from all angles and they seem to have a sense a security from the acrylic walls. I bought a couple of wooden cabins and log arches, I watch them more than the T.V. I have had the cage for a few months now and can't fault it at all. My whole cleaning and maintenance routine has been made so simple. I put Correx on the base and varnished (water based varnish) the all wood before putting it together. Constructing it is quick and easy. Can't ask for more, functional and aesthetically pleasing. Both me and the guineas are very pleased!!
Eco Habitat
I bought this product and was very impressed, the product is well wrapped and extremely easy to put together, everything you need to assemble is in the box and the instructions are clear with big annotated diagrams to follow.
brilliant
I bought this cage for my hamster as he escapes from ordinary cages by chewing through the base, this cage is a brilliant size, I hope he doesn't chew through it :)
Love this cage/habitat
I bought the small size for our 2 guinea pigs which is a good decent size for them,it was very easy to put together and i just love this habitat. It's so much nicer than the caged/bar types...much more expensive but worth it as its inside its much more pleasing to the eye & you can see the guineas from all angles. I did also purchase the liners as recommended, but our guineas just chew through the edges that poke up! Im going to purchase some correx to line the base as i want to protect the wood for as long as i can. All in all a great buy but i def think it needs a more robust liner than the plastic sheets recommended. Oh and it is really easy to clean too.