Hill's Puppy Healthy Development Large Breed with Chicken was developed to cater for the special dietary needs of puppies of large breeds up to 12 months old who will weigh over 25 kg when they are grown up. Large breed dogs have particular demands on their food. Hill's Canine Puppy Large Breed gives your dog the best start to a healthy life. Your puppy needs high quality, nutritious food to keep up with the big ones - Hill's Canine Puppy Large Breed. This dog food supports healthy muscle and bone development for a well-measured and healthy growth. Hill's Canine Puppy Large Breed also contains Hill's antioxidant formula for life-long health, and L-carnitine, a special nutrient which supports bone and muscle growth.

Advantages of Hill's Puppy Healthy Development Large Breed with Chicken:

Hill's Puppy Large Breed has been developed for the particular nutritional requirements of puppies aged up to 12 months weighing more than 25kg
Balanced nutrition and excellent taste for pups of large breeds
Low fat and calorie levels prevent your large breed puppy from growing too fast
Monitored levels of calcium for healthy joint and bone development
Hill's Canine Puppy Large Breed contains Hill's Superior Antioxidant Formula which supports the immune system
Supplemented L-carnitine promotes strong muscles and bones, so your puppy can grow big and strong
The easy-to-digest ingredients reduce the amount of faeces, and reduce feeding costs
Contains 55% poultry in total, of which 35% is chicken.
Hill's dog food is made using high-quality, easily-digestible ingredients which will give a bowl of Science Plan a much higher nutritional value than a bowl of normal pet food. So the cost of feeding your dog will be lower than you might expect!

Kibble: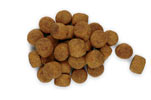 Please note:
Due to the low energy concentration and reduced calcium content, Canine Puppy Large Breed is NOT suitable for pregnant or nursing bitches, who should be given original Canine Puppy instead.