Hill's Science Plan Mature Cat 7+ Light Chicken cat food for older, overweight cats (from 7 years), with fewer calories and reduced fat content, balanced and especially tasty


Hill's Science Plan Mature Cat 7+ Light Chicken cat food can help your ageing cat to health and excellent looks. It contains everything an older cat needs to stay fit, strong and lively. Fewer calories, a lowered fat content and Hill's special antioxidant formula promote health and support the body's defences, so your cat will be healthier for life.
Especially adapted to the needs of older cats (7+) who need fewer calories (because of low activity levels, neutering or a tendency to be overweight)
Balanced and especially tasty
Promotes healthy skin and shiny fur
Easily chewed kibble
An exactly measured phosphorus content protects kidneys
Indigestible raw fibres ensure full satisfaction and promote a healthy intestinal flora
L-carnitine limits fat storage and maintains muscle mass
Omega-3 fatty acids and a special antioxidant formula promote general health and support the ageing cat's natural body defences
Hill's cat food is made using high-quality, easily-digestible ingredients which will give a bowl of Science Plan a much higher nutritional value than a bowl of normal pet food, so the cost of feeding your cat may be lower than you might expect.

In addition, the high digestibility of Hill's cat food will reduce your cat's stool volume, so that cat litter will have to be changed less frequently.

Hill's Science Plan Mature Cat 7+ Light - Chicken cat food - crunchy and with a savoury taste, this is the perfect cat food to keep your cat fit for a long and healthy life.

Kibble: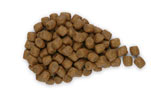 Please note:
Hill`s Feline Light Senior cat food is NOT suitable for pregnant and nursing cats.